Donations help us keep running and doing wonderful things for the fandom, every donation is massively appreciated, no matter how small
It's possible to donate to BKN in several different ways, some methods have lower fees than others, some methods are more convenient, and some include automatic donation rewards (if you donate using a method which doesn't automatically give you your donation rewards, you can claim your rewards manually by contacting us after you've donated)
Information about donation methods + alternative donation methods
1. UK Bank Transfer (Faster Payments, NO FEES)
If you have a UK bank account and want to save us on PayPal/Card processing fees, you can donate directly to our UK Bank Account via Faster Payments (normal bank transfer for personal accounts) or CHAPS
Recipient Name: Kindness Network Ltd
(if your bank won't let you type a name that long, just do Kindness Network)
Sort Code: 30-98-97
Account Number: 84491363
Account Type: Business
2. Card Payment (inc. Apple Pay / Google Pay)
This is the second lowest fee option for us after UK bank transfer. We use Stripe, the most well known online card processor to handle your card payments securely, which also supports Apple Pay and Google Pay for one-click payments on mobile and desktop (where supported).
Currently we can only accept one-time donations through Stripe directly, for monthly recurring donations we recommend you use our Ko-Fi page.
Click HERE to donate via Card Payment / Apple/Google Pay via Stripe
3. SEPA / SWIFT (International Bank Transfer)
If you want to donate to us via Bank Transfer outside of the United Kingdom, you can make a transfer to us via SEPA (EU / EEA – Free) if you live in the EU or EEA, or via SWIFT (fee depends on your bank) from anywhere else in the world like the US, Australia, or Asian/African countries.
Recipient Name: Kindness Network Ltd
(if your bank won't let you type a name that long, just do Kindness Network)
IBAN: GB74LOYD30989784491363
BIC: LOYDGB21031
Bank Name: Lloyds Bank
Country: United Kingdom
Recipient Address (if needed): Lytchett House, 13 Freeland Park, Wareham Road, Dorset, BH16 6FA, United Kingdom
Currency: GBP (only if your bank asks for it when making the transfer – our bank will auto-convert foreign currencies into GBP)
4. Ko-Fi
We can accept both one-time and monthly recurring donations via Ko-Fi, which is a service similar to Patreon where you can support your favourite creators, friends, and services.
NOTE: When donating via our Ko-Fi, please click on "Pay via Card" if you're able to, as this will process your donations via Stripe instead of PayPal, which has lower fees for us!
5. PayPal (Not Recommended)
We can accept one-time donations via PayPal, however, be aware that this has some of the highest fees out of all donation options – so we prefer that you pay via UK Bank Transfer or Card Payment (Stripe) if possible for you.
If you're unable to use the donation link below or the PayPal button under "Donate Now", you can manually donate from the PayPal website/app – simply click "Send" on PayPal, and enter "kindnessnetwork" – you should see us "Kindness Network Ltd." show up.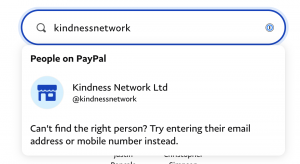 If you still can't find us under @kindnessnetwork on PayPal, you can manually enter our PayPal email which is paypal (AT) bronykindness (DOT) net (obfuscated to reduce email spam)